Eric Bliman
USA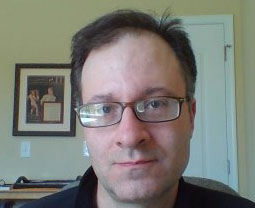 Eric Bliman's chapbook,
Travel & Leisure
, won the Poetry Society of America's National Chapbook Fellowship in 2012. His poems and reviews have appeared in
Birmingham Poetry Review, HEArt Journal Online, Quarterly West, The Southern Review, Subtropics, The Times Literary Supplement
, and other journals. He holds a PhD in English and Comparative Literature from the University of Cincinnati, where he volunteered at the
Cincinnati Review
, and an MFA in creative writing from the University of Florida. He teaches composition, technical writing, and creative writing at Pennsylvania State University - Harrisburg. He is currently seeking a publisher for his first full-length collection of poems.
Prometheus in Pittsburgh
1. Dance of the Flaming Coke
Atop the furnace dotted with blazing lids,
a lean man crooks an arm to shield his face
from the burning wind, weighed down by robes of lead.

Flares dance and sing up through the coke-holes:
dialed-up, dialed-in jets of light and heat
belch and cavort. No one can control

the beast beneath, whose exhalations shoot
through the vents in each charnel cover,
as coal-dust purrs softly down the chute.

In his left hand, a pike—half-shovel, half-lance—
mounted with a shoulder buckler, fends off
arrows of heat and incandescence.

In Pompeii's hot mud, hollow pietas were trapped.
Poured plaster revealed their human forms.
Here, a coal car's wheels polish the track.

2. Workers, Steel Mill

Holy men wear one-piece dresses of asbestos,
floppy hats, great moon-boots, and goggles
that recall mustard-gas-filled trenches.

Whistling like miners' short-lived canaries,
they totter among sparks and firefalls that cool
into razorblades, shoveling shards, Antares-

ribbons. Their morality plays contain scenes
of endless suffering and abrupt demise.
Pots of molten metal pour out their dreams.

My father remembers driving past the slag-hills
at night, their peaks streaked with orange streams.
Mills crouched by the river like extinct animals.
Each furnace held a ruby element, that pyre
stolen from the stars to give us life: such a crime
the jealous gods could not forbear.
--Previously appeared in Quarterly West
Note: after photographs in Smith's posthumously-published,
epic photo-essay of Pittsburgh, Dream Street.
his life, the records show, for the embrace of ocean.
No body, no clue. Just the keys in the ignition.
a ride, with someplace new and calm to go.