PoetryMagazine.com
Alan Britt
USA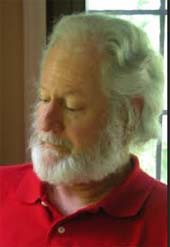 I
n August 2015 Alan Britt was invited by the Ecuadorian House of Culture Benjamín Carrión in Quito, Ecuador as part of a cultural exchange of poets between Ecuador and the United States. During his visit, he participated in the international literary conference sponsored byLa hermandad de las palabras 2015 in Babahoyo, Ecuador.He served as judge for the 2013 The Bitter Oleander Press Library of Poetry Book Award. He read poetry and presented the "Modern Trends in U.S. Poetry" at the VII International Writers' Festival in Val-David, Canada, May 2013. He read poetry for the 6x3 Exhibition at the Jadite Gallery in Hell's Kitchen/Manhattan in December 2014. Also, sponsored byLaRuche Arts Contemporary Consortium (LRACC) he read poetry at the Union City Museum of Art/William V. Musto Cultural Center in Union City, NJ in May, 2014. His interview at The Library of Congress for The Poet and the Poem aired on Pacifica Radio, January 2013. A new interview for Lake City Lights is available at http://lakecitypoets.com/
AlanBritt.html. His latest books include Lost Among the Hours: 2015,Parabola Dreams (with Silvia Scheibli): 2013 and Alone with the Terrible Universe: 2011. He teaches English/Creative Writing at Towson University.
BOSOM BUDDIES
They grew up using fists as words,
plus other forms of etiquette.
Mother drove a school bus;
father spent his best years
at a carcinogenic factory.
Algebra made them dizzy,
so they turned to geometry,
one knuckle at a time.
One robbed a liquor store;
one joined the Marines;
one became a teacher.
Years flew by like wives
& before they knew it they were barbequing
phone company pensions
with a dash of Roosevelt social security.
Kids in nursing, school board administrators,
& some on the lamb.
They grew up in neighborhoods
where fists were words.
© Copyright, 2015, Alan Britt.
All Rights Reserved.