Strider Marcus Jones
UNITED KINGDOM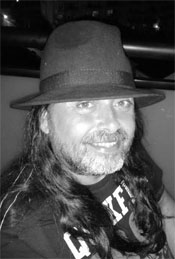 Strider Marcus Jones – is a poet, law graduate and ex civil servant, born in 1960 from Salford, England with proud Celtic roots in Ireland and Wales. A member of The Poetry Society, his five published books of poetry are modern, traditional, mythical, sometimes romantic, surreal and metaphysical. He is a maverick, moving between forests, mountains and cities, playing his saxophone and clarinet in warm solitude.
In 2014, his poetry has been published in A New Ulster/Anu Issue 27, The Screech Owl, Catweazle Issue 5, Calliope and The Gambler magazines; Degenerates Voices For Peace-Vagabonds: Anthology Of The Mad; Killer Whale Journal; Dagda Publishing; The Huffington Post USA; Writer's Ezine; The Poets Haven-Vending Machine Poetry for Change Volume 5; Sonic Boom Journal and The Open Mouse..
His poetry has also been accepted for publication in 2015 by mgv2 Publishing Anthology; Earl Of Plaid Literary Journal 3rd Edition; Subterranean Blue Poetry Magazine; Deep Water Literary Journal, 2015-Issue 1; Kool Kids Press Poetry Journal; Page-A-Day Poetry Anthology 2015; Eccolinguistics Issue 3.2 January 2015; The Collapsed Lexicon Poetry Anthology 2015 and Catweazle Magazine Issue 8; Life and Legends Magazine; The Stray Branch Literary Magazine; Amomancies Poetry Magazine; The Art Of Being Human Poetry Magazine; Cahaba River Literary Journal and East Coast Literary Review.

BARK
what's the point of crying into me-
but i can see,
to set you free.
don't you know-
i did this long ago,
by turning songs off the radio.
silence is the bark
around my ark,
i wear it on, to eat the dark-
and to keep out the images
of once shared symmetries,
standing, like stone circle cemeteries-
in the open air, made
for the wind and rain to fade,
for the sun's bleach and icy blade-
to erase it all,
to forget it's fall,
to remove it's face, from beauty's wall.


© Copyright, 2015, Strider Marcus Jones .
All Rights Reserved.