PoetryMagazine.com
Since 1996 Volume XXI
Alejandro Murguía
USA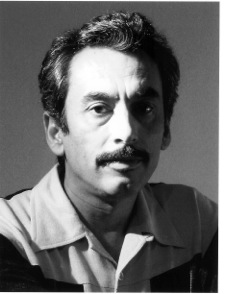 Alejandro Murguía is the author of

Southern Front

and

This War Called Love

(both winners of the American Book Award). His non-fiction book

The Medicine of Memory

highlights the Mission District in the 1970s during the Nicaraguan Solidarity movement. He is a founding member and the first director of The Mission Cultural Center. He was a founder of The Roque Dalton Cultural Brigade, and co-editor of

Volcán: Poetry From

Central America.

Currently he is a professor in Latina Latino Studies at San Francisco State University. He is the author of the short story "The Other Barrio" which first appeared in the anthology San Francisco Noir and recently filmed in the street of the Mission District. In poetry he has published

Spare Poems

, and this year a new collection

Native Tongue

. In Spring 2014 City Lights Books will release his new collection of poetry

Stray

Poems

. He is the Sixth San Francisco Poet Laureate and the first Latino poet to hold the position.
Parker's Mood
messages reach me via transpacific
lengths of them solid beats
of poets long gone like jazz greats
here in groovy club where island
spirits mix with Chicano alma
that knows the rhythm of this or that
clipped to stirring neon red & yellow
glowing in Naha alleys where time
joined to hip of this other shore
in the smoke of this jazzy
Another Voice Speaking
Somewhere between night's chaos
Your fingertips fold hours into minutes
And a man waits at the end of a street
An echo of another time—a land
Cupped in a sound that lingers
At the edge of consciousness,
a clock ticking backwards
a moment when life sleeps
and death opens a door through a wall
we never suspect is waiting for us
They tell me that your clavicle
that your melancholic metacarpals
still clutch a clod of earth in Sevilla
that your hips have not ceased dancing
in La Habana and in New York
that jasmines bloom in your eye sockets
that your jaw bone is the voice of all
the silenced ones, the undocumented ones
those insulted and executed
that the moon cradles your bones Fedérico
fragile as hummingbird wings
That's what I was told one silvery night
that sleep in your cranium
"Lorca's Dream" first appeared in

Native

Tongue

, C.C. Marimbo Press, Berkeley, 2013
© Copyright, 2013, Alejandro Murguia.
All rights reserved.
PoetryMagazine.com is published by Gilford Multimedia LLC
www.nycny.net
HOME
Mary Barnet
Andrena
Zawinski
Grace Cavalieri
Joan Gelfand
Janet Brennan
Reviews
Video
Podcasts
Submissions
Advertising