PoetryMagazine.com
Since 1996 Volume XXI
KB Ballentine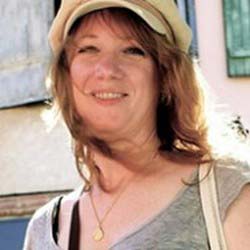 KB Ballentine has a M.A. in Writing and a M.F.A. in Creative Writing, Poetry.

Her fifth collection of poems, Almost Everything, Almost Nothing, is forthcoming by Middle Creek Publishing. Her fourth collection, The Perfume of Leaving, was awarded the 2016 Blue Light Press Book Award.

Blue, Ragged Wind
—for a student
Sky stunned by the news —
         you will not be back.
     I stare into the blue, atoms dissolving,
  taking away the shape of you.
Absorbed into Bryant's earthly coach,
     into Donne's wakeful eternity,
       you have traveled a distance we cannot
    reach. Robbed from us
 the young man we knew.
No noon sun can warm us from this cold
       rumor. No night more chilling
    than today's dawn, when a dragonfly darted
  over the lake, the sky, in lonely flight,
       light broken and scattered behind.
Darkness to Hold
Listen to the stars breathing in the night.
Curse the dawn that steals your dreams
while rose and lavender unstitch
horizon's seam and bluebirds bunch
the feeder, one red–bellied woodpecker
tapping you awake.
You stumble into this world,
this life, this day. Trade vivid
visions for monochrome moments —
bliss orphaned, forgetfulness splintered.
The unblinking sun yawns.
Work calls you into eight by eight cubes:
time measured in ticks of two blades
dragging across a face, your skin,
your thoughts.
Listen, listen to the stars, breathing
on the other side of the sky,
waiting with your dreams.
Nightingale and lark singing,
shadows knitting the dark.
Field Stone Grief
Memory swarms — promises sown,
   flown like thistle, like flies.
     Scattered to who knows where.
  Days patterned like gray tile, like slate
hanging heavy from the sky, my heart.
 Not even a breath flows through
    the fissures, splinters shorn and sharp.
   Crows hover, shadow the yard.
They watch me watching and do not blink.
Copyright, 2018,
KB Ballentine.
All Rights Reserved.
PoetryMagazine.com is published by Gilford Multimedia LLC www.nycny.net