PoetryMagazine.com
Since 1996 Volume XXI
Blakeslee Stevens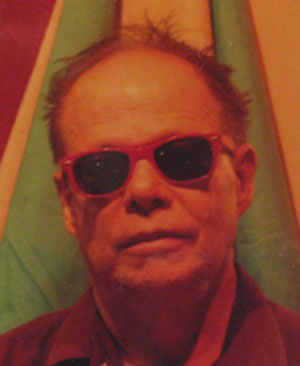 First published 1965 in The American Poet. Work has regularly appeared in various publications since in the U.S., Australia and Germany. Publishers include but are not limited to : PERSPECTIV, POETSFEET, LOUDER THAN BOMBS, VENICE WEST REVIEW, SIC, BLACK TAPE PRESS, HOME PLANET NEWS, L.A. EMISSIONS, FIFTH SUN , ARTFAX, RHYME SCHEME, NEWLETTERS, among others. My poems and plays have been performed on radio in the US and internationally. I have collaborated with European and African musicians on poetry and music . I am currently fighting for my life against an aggressive form of prostate cancer. See also "MY RECOVERY FROM CANCER" on GOFUNDME.
The poetry of the very last word
the last time you will speak it
make it last
the forever of the final kiss
goodbye goodbye goodbye
The begging bowl
which is also the therapy bill
from me to you
keep moving
you cannot stay still
have meditations instead
of multi grain bread
it's Lent
it's bent
we are past evolution and big bangs
those are dreams
whirling in the godhead
a martini of time and rhyme
making up poems
and selling it as scripture
to pay the rent.
I'm swiftly carried to my feet

where hot and cold

air currents meet.

Arriving storms replacing

damp, cold norms

of speech and reach.

Two destinations

separated by lightning.










I'm swiftly carried to my feet

where hot and cold

air currents meet.

Arriving storms replacing

damp, cold norms

of speech and reach.

Two destinations

separated by lightning.







Wandering around the produce section at the all night Vons in Hollywood at 3am wondering what a whole papaya looks like made me feel as if I'd just arrived from Outer Space. It began to dawn on me that maybe I had.






DRONE

To have the words inside

Without the voice to speak them

Nor the hands to write.

Artificial hands

Mechanical brain

I am a model airplane.





Copyright

, 2015, Blakeslee Stevens

.


All Rights Reserved.




PoetryMagazine.com is published by Gilford Multimedia LLC www.nycny.net
HOME
Mary Barnet
Andrena
Zawinski
Grace Cavalieri
Joan Gelfand
Janet Brennan
Reviews
Video
Podcasts
Submissions
Advertising