Ken W. Simpson
AUSTRALIA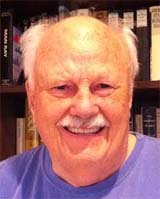 An Australian poet whose latest collection, Patterns of Perception, was published by Augur Press last January, He lives with his family at Lysterfield, a Melbourne suburb, in the state of Victoria.
Dealing with Demons

Thoughts escape

as silent echoes

of wistful yearnings

that ebb and flow

with the slide of the sea

pause

then slip back again

fretful and forgetful.



Waves grow with the wind

currents change

and passions incandescence

begins to fade

a fragile love

that failed to last

and passed

with the coolness of a kiss.



The glitter of strobe

mouths open and close

gaily greeting

with ingratiating grins

platitudes and cocaine cocktails

parodies of pleasantries

and unkind eyes

that perceive and scrutinize.



Eyes

fleetingly meet

a melody surges, swells

then changes

to a syncopated beat

as the future flees

slyly wondering

into the whimsy of the night.
© Copyright, 2015, Ken W. Simpson.
All Rights Reserved.