PoetryMagazine.com



Linda Nemec Foster
USA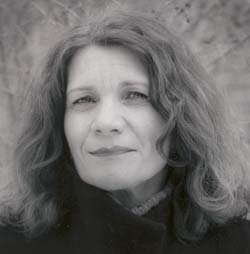 Linda Nemec Foster is the author of nine collections of poetry including Living in the Fire Nest (a finalist for the Poet's Prize), Amber Necklace from Gdansk (a finalist for the Ohio Book Award in Poetry), and Listen to the Landscape (short-listed for the Michigan Notable Book Award). Her poems have appeared in such journals as The Georgia Review, Nimrod, North American Review, Quarterly West, and New American Writing. She has won awards for her work from ArtServe Michigan, Michigan Foundation for the Arts, the National Writer's Voice, and the Academy of American Poets. From 2003-2005, Foster served as the first poet laureate of Grand Rapids. In 1997 she founded the Contemporary Writers Series at Aquinas College and is currently a member of the Series' programming committee. Her new full-length poetry collection, Talking Diamonds, was published in 2009 by New Issues Press and was a finalist for Foreword Magazine's Book of the Year Award in Poetry.
For more information on her work, please visit her website at www.lindanemecfoster.com
Waiting for the Annunciation
(after the painting "Waiting" by Nancy Wanka)
"Art does not imitate life.
Art anticipates life."
Jeanette Winterson
No sacrilege here, only art. And not
the kitschy art of the Madonna of the Suburbs,
nestled in a bathtub grotto near the garage--
the limp shirts on the line, her only devotees--
but real art: a young girl in an empty room.
I could see the screaming headline now,
Free-Spirit Agnostic Chosen to be God's Mother,
and the ensuing media frenzy. The reporters
just concentrate on her face and don't notice
the immense yellow space at her right. Too
brilliant; as if the sun had forgotten its place
in the sky and wanted to sit down beside her.
What is she thinking with her doubting eyes
averted? The sideways glance too busy sizing-up
the colors of citron and corona, sunflower and pollen
to really notice the face of God just outside
her sphere of reference: the pale gray hood,
the deep blue jacket. These colors of the sky
groom her to be another version of a modern
madonna waiting for someone to call her name. But
no angel wings announce Mystery Happening Right Now.
And as for any boyfriend waiting on the sidelines...
Forget it. Whether his name is Joe or Mike or
Kevin, she'll break a heart and total the car.
Smashed fender the least of his worries. But
back to her waiting to say yes or no. At the moment,
she's alone. Apart from everyone. Even thoughts
of mother/father, daughter/son. Any second now,
the whole world will stop holding its breath.

published in The MacGuffin.
© Copyright, 2012, Linda Nemec Foster.
All rights reserved.