PoetryMagazine.com




Larry Smith
USA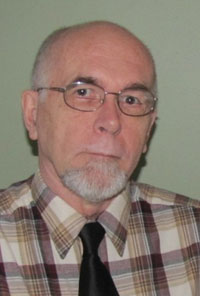 Larry Smith,
a native Midwesterner, is a graduate of Muskingum College and Kent State University (M.A. and Ph.D). He is the author of eight books of poetry, a book of memoirs, four books of fiction, two literary biographies
of authors Lawrence Ferlinghetti and Kenneth Patchen, and two books of translations from the Chinese. His photo history of his hometown
Mingo Junction
appeared recently in the Images of America Series. Two of his film
scripts on authors James Wright and Kenneth Patchen have been made into films shown on PBS. As a professor of English and humanities at Bowling Green State University's Firelands College he has taught writing and literature and served as director of the Firelands Writing Center, a cooperative of writers. As director of the literary publisher, Bottom Dog Press, Inc., he has edited over 50 books and carried into publication some 135 titles of poetry, fiction, and nonfiction. In addition, Smith is a consultant for Wayne State University Press, and has been a reviewer for
American Book Review, Parabola, Small Press Review, Choice, The San Francisco Review of Books, The Columbus Dispatch, Ohioana Quarterly, Heartlands,
and the
New York Journal of Books
. He is a requested presenter at various writers' conferences in Ohio, Michigan, Pennsylvania, and Kentucky. His poetry has been featured on American Public Media's
Writer's Almanac
with Garrison Keillor. His novel The Free Farm will be released this year from Bottom Dog Press
Fishing the Lake
What we came for, and what arrives.

My grandson and I walk out the pier
all the way to the lighthouse,
carrying our fishing poles and gear
navigating the huge boulders
that drop off into a deep lake.
If he falls in, I will follow
unable to live with his loss.

I bring a bucket of shiners
that we will put back into the lake
two by two, hoping against wind
to draw out a perch or bass,
perhaps a great walleye
to celebrate the day together
in the sun and wind.

The steady hoot of the lighthouse,
the waves washing up on the rocks,
the old guy who shows him
how to bring it in without a snag.
We calculate then cast out,
letting go the line, learning to
sit and wait again and again.

What we came for, and what arrives.
© Copyright, 2012, Larry Smith.
All rights reserved.