PoetryMagazine.com



Emeniano Acain Somoza, Jr.
PHILIPPINES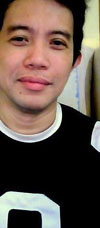 Emeniano Acain Somoza, Jr. is a Communications Officer in the Middle East and author of 'A Fistful of Moonbeams', his first poetry chapbook published by Kilmog Press in April 2010. Although foremost a poet, he is also a fictionist, an essayist and a playwright. Somoza hails from Siquijor Island in the Philippines. His writing has been widely published in his home country (Philippines Free Press, Philippine Graphics, Ateneo University Press, Cultural Center of the Philippines, etc.) and internationally (Moria Poetry, Troubador 21, Gloom Cupboard, Haggard & Halloo, Barnwood International, etc.). He received a degree in Bachelor of Mass Communication from the University of the City of Manila and masteral units in Creative Writing from the University of the Philippines-Diliman.
The Last Historian Of These
Long Elephant Days
(A Folio of 4 Poems)
This fascination with marbles,
smooth pebbles - anything
to tame the earth

because gravity is a six-foot
dungeon

No sense defying, the weight
can't wait, so handful

in his pockets, he keeps himself ready
and the preening current,
(Ms. Woolf was watching a pebble
thud, thud, thudding at her feet
as she combed for the last time)

Hours here roll by, bleeding sun sets
the day, and he lives to sigh, sigh, sigh
to the singsong assault of jackhammers
break, break, breaking the walls
of his room

Tonight he will let the cat out,
then starve the fish in the aquarium,
he needs more

space for these
long elephant days

the river can wait
© Copyright, 2012, Emeniano Acain Somoza, Jr.
All rights reserved.