PoetryMagazine.com




Sonnet Mondal
INDIA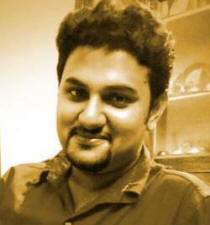 Sonnet Mondal is the author of six books of poetry including a poetry bestseller and is the pioneer of the 21 line fusion sonnet form of poetry. His works have been published in over hundred International literary publications and have been translated into Macedonian, Italian, Arabic, Hindi, Telugu and Bengali. He was awarded Poet Laureate from Bombadil Publishing in 2009, Doctor of Literature from United Writers' Association in 2010, Azsacra International Poetry award in 2011 and was inducted in the prestigious Significant Achievements Plaque in the museum of Bengal Engineering and Science University, Shibpur. He was featured in Famous Five of India Today magazine and as an Achiever in the Herald of India and United Magazine. He has also been a featured poet at World Poetry Reading Series, Canada,The Single Hound journal, Bruised Peach Press and Asian American Poetry project, U.S.A. He was invited at the Struga Poetry Evenings 2011 to represent India in their Golden Jubilee celebrations. At present he is the managing editor of the Enchanting Verses International journal of poetry, Editor of Best Poems Encyclopedia, Editor of Sonnets in the New Millennium (Diamond Point Press) and the Sub Secretary Geneal of Asia Unit of Poetas Del Mundo.
Gazing Through the Mud Hole
Through a narrow hole
in the mud wall of a hut
I see broken planks of house
of the richest man in the city.

While winter and summer creeps
in to turn the hut into a hell,
the broken window of the mansion
has gathered a crowd
to set it in same design.

The hole indicates the stature of poor
and the life suitable for them in a
so called third world country.
They are just meant to gaze
at rich wonders here.
© Copyright, 2012, Dr Sonnet Mondal.
All rights reserved.