Jennifer Lagier


USA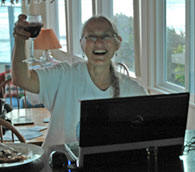 Jennifer Lagier is a member of the Italian American Writers Association, the Central Coast Writers and serves as the Ward One representative to the Monterey Peninsula Regional Park District Board. She has published scholarly articles relating to distance learning, electronic databases and the internet, including a section in the John Wiley & Sons Internet Encyclopedia. Her poetry has appeared in a variety of journals, anthologies, and e-zines throughout the U.S. and Italy. Her five books are Coyote Dream Cantos (Iota Press, 1992), Where We Grew Up (Small Poetry Press, 1999), Second-Class Citizen (Voices in Italian Americana Folio Series, 2000), The Mangia Syndrome (Pudding House Publications, 2004), and Fishing for Portents (Pudding House Publications, 2008).
Fifties Flashback
A Sears repairman removed
the pegboard back of our giant
black and white TV, fussed inside.

He's cleaning out the dead cowboys,
Daddy told my sister and me
as we watched, open-mouthed.

I imagined cold, stiff piles
of shot-down desperadoes,
swept away with gray dust.

Now my father is gone; nights bring
blurry reruns of past peach harvests,
truck rides he gave us to the cannery and back.

At the grading station, he
hitched up perpetually sagging levis,
handed me a quarter to purchase strawberry pop.

I miss our Saturdays, simple monochrome westerns,
Cisco and Pancho galloping to the rescue,
happy endings that last.
© Copyright, Jennifer Lagier.
All Rights Reserved.