PoetryMagazine.com
Ruth Hill
CANADA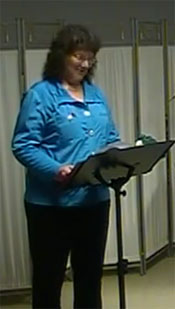 Ruth Hill was raised in upstate New York, and traveled North America extensively. She is a Certified Design Engineer, dedicated tutor, and enjoys spoken word. She has won 1st prizes in Gulf Coast Ethnic & Jazz Poetry, Heart Poetry, Lucidity, Poets for Human Rights, and Writers Rising Up! In her first 5 years of writing, over 200 of her poems have won awards or publication. Ruth now lives in Canada
Pas de Deux
I always wondered about the origins of ballet,
until I saw two yearlings tip-toeing thru fresh snow
on a muddy path: glissade dessus.
They lifted and shook their feet at every step:
battement frappé.
Their big white tails were fluffed out behind them.
Passing elegantly, delicately, in a pas de deux,
they seemed to bow to each other.
Looking back at me, epaulement, adagio, swaying.
After napping, these nurslings used to leap, jete,
dance en pointe, and paw the air, playing,
Cecchetti fourth en haut.
I thought I saw a Degas pose,
back leg straight forward, toes pointed, pointe tendu,
bending at the waist, cambré,
sinking down on the front leg, fondu,
cheek brushing ankle.
The snow made a shushing sound,
as they walked sadly into winter.
For a moment, just for a moment,
I thought I saw…
their arms around each other.
Little Red Tree 2010 Anthology.
© Copyright, 2015, Ruth Hill.
All Rights Reserved.