PoetryMagazine.com



Steven Joyce
USA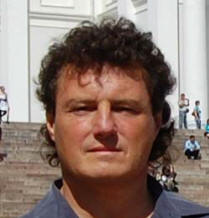 Steven Joyce is an Associate Professor of German and comparative studies at the Ohio State University, Mansfield campus. He has published a book on G. B. Shaw entitled Transformations and Texts as well as a number of poems in literary journals including Kimera and Red River Review and Minimus. His award winning book of essays entitled The Winds of Ilion appeared in 2011 and a book of poetry, The Apostate Djin, appeared in 2013. He holds a Ph. D. in comparative literature from UNC-Chapel Hill and has published a number of articles on literary theory and criticism.
When Birnam Wood Walks
on Two or More Feet
The morning reprises itself a role
glamorous with dawn-dust
illuminating misprisions
hexen warts and all they sing
as if lamplighters making their rounds
on a moonless night
not a single word
in sight
not a single eligible bachelor-thought
that might wed
and bring forth life
of some kind.

The Great Birnam wood stands sentinel
its hundred legs begin to move to high Dunsinane
startled by a dark rhyme
the witches sing
they have fun
Walpurgis on the Brocken, burning man
men to come
the night hiding
the exhausted hair and wild eyes
in a vibrato
that gyres and leers,
rotates and tilts
gurgle gurgle
boil burgle they steel
themselves for the full fury
of casual prophecy
misfortune disguised and creeping
up the hillside as
Fortuna and her sisters
fidget far from the battle . . .

Waiting to crawl to high Dunsinane,
the trees grumble their leaves shine
their roots an impediment as they trip uphill yet
they succeed in bringing
Macbeth to his knees
and fate to its feet.
© Copyright, 2014, Steven Joyce.
All Rights Reserved.