Janet Jackson
AUSTRALIA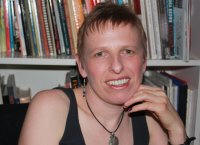 photo credit: Coral Carter
Janet Jackson (Australia, b. 1965) has written poetry since 1986, publishing a collection ('Coracle', 2009) and several chapbooks including 'q finger' (PressPress 2011). Fremantle Press's ten-poet volume 'Performance Poets' (2012) will feature her work. Janet writes songs and sometimes accompanies poems with guitar. She frequently guests at festivals and readings, including the 2010 Australian Poetry Centre festival and the 2009 Queensland Poetry Festival. Her poems have appeared in journals including Westerly, BLAST, The West Australian, nthposition and Hamilton Stone Review. The National Library of Australia's Pandora project includes Janet's website ProximityPoetry.com. Janet teaches poetry and creative writing and coordinates Perth Poetry Club.
despite and because
I cannot be
what you have lost
and you may not be
what I never had
but still I long
just to hold your hand
just to walk beside you
on the less-walked path
because walking beside you
I am in my place
because dancing beside you
I can truly dance
despite and because
of your depth and dark
despite and because
of your shameless voice
despite and because
of your heartbreak face:
when you are dreaming
you are just so beautiful
that I want to die
since I may not touch
From chapbook 'q finger', PressPress 2011
© Copyright, 2012, Janet Jackson.
All rights reserved.