PoetryMagazine.com



Vasil Slavov (Cyrillic: Васил Славов)
USA - BULGARIA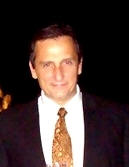 Vasil Slavov (Cyrillic: Васил Славов) is a Bulgarian author and poet, born on 25 February 1958 in Sofia, Bulgaria. He has been living in the USA since 1989. He is the son of writer Atanas Slavov. Graduated English philology from Sofia University " Kliment Ohridsky ". First collection of poetry published in 1989. Same year moved to USA. Studied poetry with the MFA program( Bruce Weigl )at Pennsylvania State University. Poems published in the collection of Bulgarian verse " Windows at the Black Sea " (Carnegie Mellon University Press), editors Richard Harteis and William Meredith. Author of several books of poetry, collections of short stories and a novel (editors of his books published in Bulgaria - Georgi Borissov, Boris Hristov, Penka Vatova). Last book of poetry "Americana", published with "Trud" Publishing House - Sofia, Bulgaria - December 2010. Lives with his wife and daughter in Pittsburgh,PA.
Little Poems
this is almost it
inexplicable final outburst
calloused fragile aftermath
why is the strength so strong
the felt so deep
the dreamt so wild
the love so . . . human
now
in this
this is
in this
so easily extinguishable
it

* * *
how little are the unlittle thoughts
unlittle words
unlittle dreams
maybe just maybe the unlittle deeds are a little bit unlittle
but what do I know
I entered the room
where books have been written
dreams have been dreamt
life has been going
going
gone
how little is a vacant room
how little is emptiness
© Copyright, Vasil Slavov.
All rights reserved.