PoetryMagazine.com



Richard Hartwell
USA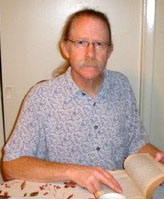 Rick Hartwell is a retired middle school teacher living in Moreno Valley, California, with his wife of thirty-five years (poor soul, her, not him), their disabled daughter, one of their sons and his ex-wife and their two children, and ten cats! Rick has

had or will have forthcoming articles, stories, novellas, poems, or memoirs published in Educational Leadership, English Journal, California English, Kappa Delta Pi Record, The Voice, Sunspots, Once Upon A Time, Vietnam Magazine, Midwest Literary Review: Winter Canons,

PigeonBike & the Painting: Ekphrasis Challenge.

The Stray Branch: Spring/Summer 2011 and 2013,

West Ward Quarterly: Spring, Flasquake: Spring, Anointed: A Devotional Anthology,

Folded Word: Freight Collective, and Burnt Bridge: Those Who Served, Cover Feature-Vietbam Flashbacks.
Flitting Around
Daubs of purple, blurred within the green.
Eyes race to refocus on the black-yellow butterfly
Flitting among the blooms. Of this, or these, is an
Impressionistic life made and my soul is satisfied

In the late afternoon of my life; alone, not lonely.
Reversed image in the rearview mirror of my memory,
Butterfly garnering more anonymous sex in a single day
Than Iíve encountered in a lifetime of anonymous afternoons.

All poems originally appeared online in 2011 at
Cherry Blossom Review
© Copyright, Richard Hartwell.
All rights reserved.