Rob Walker


AUSTRALIA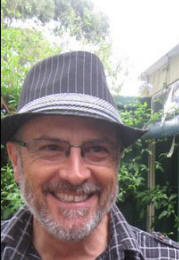 rob walker (b. 26/6/53) has three published poetry collections in Australia: sparrow in an airport, micromacro and phobiaphobia and has published hundreds of poems on websites and e-lit journals around the world including Cortland Review and Red River Review. In recent years heís been dividing his time between teaching English at Senior High and University level in Himeji, Japan and running a small farm in the Adelaide Hills, South Australia. He contributes more unusual work (both words and music) to Creative Commons site ccmixter (as robwalkerpoet) where itís remixed by other artists. Rob maintains an extensive poetry website, writes short fiction and works with jazz/funk/impro poets collective Max-Mo., and Zephyr string quartet.
I think the worst is over now
Yeah I think the worst is over now.
Yeah, itís gonna be alright.
The morning sun is shining like a red rubber ball.
Paul Simon

In the Peace Museum thereís a red plastic ball suspended over a huge 3D model of Hiroshima as it was on that day. It represents the point of detonation 300m above the city, above the dome of the building, the dome thatís now a melted twisted reminder of the power in our hands the day we invented our own sun, a whiteness which X-rayed people to charcoal. And back at the multirise hostel you get a 360 degree view of a modern city of 1.6 million uncharcoaled people and you ask yourself if the worst is over now and despite feeling overwhelmed by the whole day you find yourself humming a song Paul Simon wrote well before
The Sounds of Silence.
© Copyright, 2013, Rob Walker.
All rights reserved.