Mal McKimmie
AUSTRALIA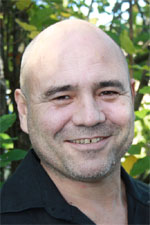 Mal McKimmie was born in Perth, Western Australia. His poems have been published in numerous literary journals, magazines and anthologies. Poetileptic, his first volume of poetry, was published in 2005 by Five Islands Press, Melbourne. The sequence 'The Brokenness Sonnets II' was published in Take Five 08 (Shoestring Press, Nottingham, UK, 2009). His second full collection, The Brokenness Sonnets I-III & Other Poems was published by Five Islands Press in late 2011 and won the 2012 Age Poetry Book of the Year Award. Since 2004, Mal McKimmie has lived in Melbourne
from The Brokenness Sonnets I
My head is atomic with unspoken thought.
My heart a river that strains its banks until
released by seizure. Nothing changes — I wet
myself, I grow older. And while I pace
behind my body's bars like Rilke's panther,
hands soothe me, hold me, wipe from my face
my failed speech — I am loved. But still,
like a tree trapped in eternal winter,
I am time-twisted, rain falling inward,
with never a spring, not one flowering word.
Not even love will free a single finger
for my poems blue as the sky, blue as the rain,
to spread wings and fly from an alphabet board.
Under my skin I have a different name.
© Copyright, 2013, Mal McKimmie.
All rights reserved.