PoetryMagazine.com



Jackson
AUSTRALIA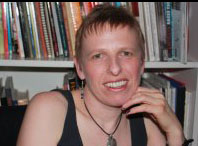 Jackson (also known as Janet Jackson, Australia, b. 1965) writes and publishes poems, songs and prose, performs poetry and music, and edits and teaches poetry. In 2013 Mulla Mulla Press published her second full-length poetry collection 'lemon oil' and Fremantle Press a micro-collection in 'Performance Poets'. Her guest performances include the Tasmanian and Queensland Poetry Festivals. In 2012 Jackson was a writer-in-residence at the Fellowship of Australian Writers WA. She is a 2013 Literary Advisor for KSP Writers Centre and a member of the Society of Editors WA. Jackson publishes nonfiction at rawtext.blogspot.com. The National Library of Australia archives her collected poems and online home Proximity, proximitypoetry.com.
despite and because
I cannot be
what you have lost
and you may not be
what I never had
but still I long
just to hold your hand
just to walk beside you
on the less-walked path
because walking beside you
I am in my place
because dancing beside you
I can truly dance
despite and because
of your depth and dark
despite and because
of your shameless voice
despite and because
of your heartbreak face:
when you are dreaming
you are just so beautiful
that I want to die
since I may not touch
From my chapbook 'q finger', PressPress 2011
© Copyright, 2013, Janet Jackson.
All rights reserved.