PoetryMagazine.com

Gloria Mindock
USA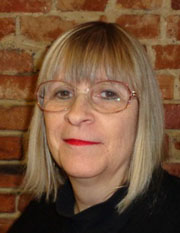 Gloria Mindock is the founding editor of Červená Barva Press and one of the USA editors for Levure Litteraire (France). She is the author of La Portile Raiului (Ars Longa Press, 2010, Romania) translated into the Romanian by Flavia Cosma, Nothing Divine Here (U Soku Stampa, 2010, Montenegro), and Blood Soaked Dresses (Ibbetson, 2007). Widely published in the USA and abroad, her poetry has been translated and published into the Romanian, Serbian, Spanish, Estonian, and French. In 2014, Gloria was awarded the Ibbetson Street Press Lifetime Achievement Award and in May, 2016, Gloria will receive the Allen Ginsberg Award for community service by the Newton Writing and Publishing Center. Gloria recently was published in Gargoyle and work in the We are You Project Anthology is forthcoming. Her book, Whiteness of Bone, is forthcoming in 2016 by Glass Lyre Press (Chicago, Illinois).
ASCENSION
They all were led to an embankment,
pushed over.
Shot in the head or hacked.
Piles of bodies, a crime.
The courage of those who died made
their bodies beautiful.
Ascension into the air where God touched their soul.
Evil is evil so mourning is essential.
Two lion cubs played nearby.
So cute and young…
They understood what life was but
when older like man, their innocence
is awakened by the tongue.
© Copyright, 2016, Gloria Mindock.
All Rights Reserved.