PoetryMagazine.com
Tatjana Debeljacki
SERBIA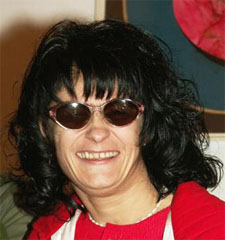 Tatjana Debeljački, born on 23.04.1967 in Užice. Writes poetry, short stories, stories and haiku. Member of Association of Writers of Serbia -UKS since 2004 and Haiku Society of Serbia - HDS Serbia, HUSCG – Montenegro and HDPR, Croatia. A member of Writers' Association Poeta, Belgrade since 2008, member of Croatian Writers' Association- HKD Croatia since 2009 and a member of Poetry Society 'Antun Ivanošić' Osijek since 2011, and a member of "World Haiku Association" – 2011, Japan. Union of Yugoslav Writers in Homeland and Immigration – Belgrade, Literary Club Yesenin – Belgrade. Member of Writers' Club "Miroslav – Mika Antić" – Inđija 2013, Writers' Association "Branko Miljković" – Niš 2014, and a member of Japan Universal Poets Association (JUNPA). 2013. "Poetic Bridge: AMA-HASHI (天橋)
Up to now, she has published four collections of poetry: "A HOUSE MADE OF GLASS ", published by ART – Užice in 1996; collection of poems "YOURS", published by Narodna knjiga Belgrade in 2003; collection of haiku poetry "VOLCANO", published by Lotos from Valjevo in 2004. A CD book "A HOUSE MADE OF GLASS" published by ART in 2005, bilingual SR-EN with music, AH-EH-IH-OH-UH, published by Poeta, Belgrade in 2008."HIŠA IZ STEKLA" was translated into Slovenian and published by Banatski kulturni centar – Malo Miloševo, in 2013 and also into English, "A House Made of Glass" published by »Hammer & Anvil Books» – American, in 2013.
Her poetry and haiku have been translated into several languages.
Perfection
Out of imperfection
the old skeptic
Shall I advocate for you before God,
common creative mind?!
Necessarily we write down,
For the comfort, not to succumb.
For hours before the end,
soften by the wine
French wine, Pinot Noir-Maison Blanche,
danced the last tango
you
Does it mean anything to
The battle of frightened thoughts,
Breaking into pieces
In the east of history!
You had something to learn,
Today your look is blunt, empty!
The insect will survive
Wriggling by the widow!
You seem crestfallen.
Loneliness will preserve you
With the one you are.
The picture will outlast you.
Visual trauma.
The far east
Light and shadows
Birds in the flock
The ships and the sailing
Inevitable and foreseen…
The magic of traveling
To the inner harmony!
The girl's neck
Beauty from the darkness!!!
© Copyright, 2015, Tatjana Debeljacki .
All Rights Reserved.