Louis Ellenwood Barlowe
USA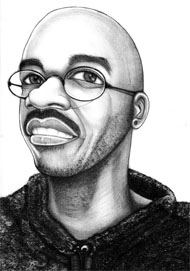 Curtis M. Harrell, Jr. is a native Chicagoan, born and raised on the Near North side of the city – in the very shadow of the Cabrini-Green Housing Projects. Young Curtis, along with his family, migrated to the South Side of the city, to the Morgan Park neighborhood, in the very late 60's, immediately after the assassination of Martin Luther King, Jr. made staying any longer in the old neighborhood impossible. Nonetheless, he never forgot his roots.
His early reading habits evolved along what seemed, in retrospect, a natural path for him, and helped him develop an intense interest in World Histories, Cultures and Religions. Little did he know that the path from fairy tales, to Aesop, to European and Mediterranean mythologies, and finally, World Religions, histories and cultures, would lead him back to his very beginning, and the ultimate creation of Popito!
He has published two books, Cathedral of the New Age and Seven Angels, and has three upcoming book projects in the works. He currently resides in a Chicago suburb with his two pet beagles, Peanut, and Junebug. He likes to write poetry and old-style pulp fiction tales under the pen name of Louis Ellenwood Barlowe, a transliteration (of sorts) of his mother's maiden name.
Angel In A Dark Place
Come, close your Golden Eyes once more,

And fall into the dim and hellish abode.
There, in the Womb of Darkness,
They will surround you, each to every side,
And put your mettle to the fearsome test.
With lustful envy, and cackling glee,
They yearn towards, and flutter from,
The innocent fervor in your eyes,
And the guileless passion of your tears.
They are the Despised Ones, the Hated Ones
The ones who would dare strip your fledgling wings
Of their vast and magnificent power.
Their fiendish lord will pursue you
Through the rain-soaked, crooked alleys of Fear,
And strive to immolate your tender soul
In the fiery tomb of his own self-hatred.
His minions will hunt you, and stalk you, and corner you,
Battering down your upturned arms
Again and again and again,
Until it seems as if the entire world will
Bulge forth and burst, for want of holding back
Your raging sorrow.
But fear not.
For behold, I am as a Shield
Upon that upturned arm,
And never will I abandon you.
Even as the Shadows, closing all around
Attempt to swallow all, but the very purest heart,
And just as the malevolence without, imperils the virtue within,
Then, even then, will I be at your side.
When the tempests come screaming down
From black clouds unseen,
And the daggers of an icy heart are more sharp
And more cold
Than tortured skin can bear, or tormented soul can heal,
Then be stilled, and be heartened,
For I will strike them all aside,
And cast off their wicked ardor
Like rose petals in a soft wind.
Therefore, be not afraid,
For though they may test the seeming strength of you,
Believe this; that your best strength is not yet known.
And though they would besiege you
With torrents of numbing anguish,
Know that I am with you, and near you, and of you.
Know too, that I am you, and our strength
Will carry us forth
Until the very end of Life, and Time.
© Copyright, 2015, Louis Ellenwood Barlowe .
All Rights Reserved.