Erren Kelly
USA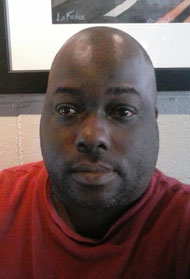 Erren Kelly is a Pushcart nominated poet from Portland, Oregon. He has been writing for 25 years and have over 150 publications in print and online in such publications as Hiram Poetry Review, Mudfish, Poetry Magazine(online), Ceremony, Cactus Heart, Similar Peaks, Gloom Cupboard, Poetry Salzburg and other publications. His most recent publication was in The Rain Party and Disaster Society; He has also been published in anthologies such as " Fertile Ground," and Beyond The Frontier." His work can also been seen on Youtube under the " Gallery Cabaret," links.
He is also the author of the chapbook, " Disturbing The Peace," on Night Ballet Press and I'm currently working on another book.
He recieved my B.A. in English-Creative Writing from Louisiana State University in Baton Rouge.
Down Feathers….
after the photograph by Alexis Doshas
Down feathers make the
best pillows,
which rests on cotton sheets
Because she feels like
An ivory snow baby
When she falls asleep
Like cotton sheets
And. Down Feather pillows
She is an acquired taste
Not pretty
but amazingly beautiful as
She lies on her brass bed
Like an ivory snow baby
She's always been good
At getting what she wants
She's more trouble than
She's worth
But she's all the trouble
You need
© Copyright, 2015, Erren Kelly.
All Rights Reserved.