Steven Pelcman


GERMANY - USA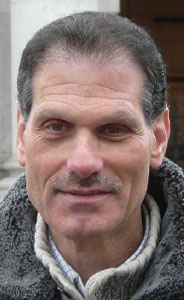 Steven Pelcman is a writer of poetry and short stories who has spent the past few years completing the novels titled RIVERBED and SPENDING TIME and books of poems titled, WHERE THE LEAVES DARKEN and LIKE WATER TO STONE. He resides in Germany and teaches in academia and is also a language communications trainer and business consultant. He has been published in a number of magazines including: The Baltimore Review, The Windsor Review, The Innisfree Poetry Journal, Fourth River magazine, enskyment.org, River Oak Review, Salzburg Poetry Review and many others. He has been nominated for the 2012 Pushcart Prize. His most recent acceptance is in the upcoming issue of Warwick Review.
HERBIE
(YARMOUTH, Maine-AP – Herbie, a massive tree that stretched 110 feet into the sky, captured the imagination of a town's residents and earned the title of New England's champion elm, was cut down Tuesday after a long battle with Dutch elm disease. It was more than 200 years old.)
Herbie has stretched itself
Above the shores of Yarmouth
For 200 years and never learned
To count the yellowing leaves

Or dark streaks
It wore as the circling
Of bark beetles
Turned this old elm

Inward over to the terror
Of machines that know
No kindness
Or remember the history

Of fallen branches-
Hallow thuds upon the wet earth
And escaping ghosts
That echo the silence

Of this forest in dismembered limbs
That tumble and roll
Across the snowy-mud
And dormant leaves of winter.

Better yet
To feel the shortness of breath
Of townspeople witnessing
This scalping of this sticky wood

And splintered past
Of men and horses passing
Of rifle shot and young
Lovers and lost graves

Where children and families
Have come to measure out
Their lives in sliced
Rings of wood.
© Copyright, 2013, Steven Pelcman.
All rights reserved.