Dibyendu Saha


INDIA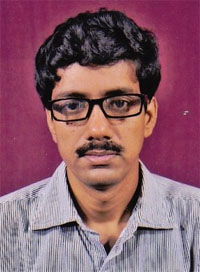 Dibyendu Saha is a works in an educational Institution of Himmatnagar, Gujarat, India.
He passed his boyhood at the suburb of Calcutta and at the age of 19 started writing poetry in Bengali, his mother tongue. Several were published in local publications.
Now writing in English, he has had his poetry published in various venues.
UNNOTICED ANECDOTE
One by one
Conducting a tumultuous
Bon voyage
The wobbly sampans
Drew back home.

In the busy bed of the immense dark river
Resonating chorus from old, new throats
Proclaimed the end of a
Marathon-

The silver crops of water
In the packed womb of the primeval water-craft
Is on their mark
To scatter the luscious smell of
Spluttering oil over the nation.

Amid the monsoon –fest of the entire land
No one will lend ear
To the hidden story of tear

Even the faint glow of dying moonlight
Being relentless in heart
Denied to cast eyes on the unremitting
Roll of melted pearl
Over the ebony face
Of the newly married.
Setting aside safe passage for all the sampans
Making victorious return
The vengeful sea
Pointed her to return own empty breast.

Grand –fest never be salted
Without a sacrifice.
© Copyright, 2012, Dibyendu Saha.
All rights reserved.