PoetryMagazine.com
Walter Bargen
USA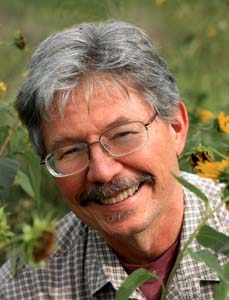 Walter Bargen has published eighteen books of poetry. His most recent books are: Days Like This Are Necessary: New & Selected Poems (2009), Endearing Ruins (2012), Trouble Behind Glass Doors (2013),Quixotic (2014), and Gone West (2014). He was appointed the first poet laureate of Missouri (2008-2009). www.walterbargen.com
In addition,he has received a NEA grant in poetry, the Chester H. Jones Foundation Award, The William Rockhill Nelson Award, The Quarter After Eight Prose Prize, an A cappella Zoo award, and a few others.





San Francisco
Itís ubiquitous and trite, 3 a.m.,
A city that never sleeps only grows
Lonelier: murder, mayhem, malicious pandering,
Larger-than-life tags sweeping across
Sidewalks and granite walls, and still the city
Streets are a singular echo of steps lost
In their own echoes. The night undressing as tires
Rip open damp pavement, neon snaking
Along curbs, and for the abandoned, time
To cover overstuffed grocery carts with fog.
The sleeper loses his way, physically,
Psychically, sleep walking a matter to be worked
Out later with hotel security. The many complaints:
The jiggled door knobs, the body glimpsed through
Fish-eyed peepholes, seeing something dragged,
dissolving down the hall, the way lost,
the corridor longer than thought or doubt.
Endless, each exit sign pointing to the next door,
And the next, each door hung with Do Not Disturb
As the many snore confidently through their darknesses,
As she listens for a way out, a brush of air,
A muffled trolley clang just around the next carpeted corner.
The flush of fog beyond the windows,
Neonís electrified blush, whose very sight
Sets off smoke alarms, the fire department on the scene:
axed and hosed, laddered to the ninth floor,
ready to quell the suffering that carves out
and craves an existence, loverís in their ruined rooms,
the charred promises that tonightís smoldering
will be whole and freshly curtained with sea fog.
For Pam McClure
© Copyright, 2014, Walter Bargen.
All Rights Reserved.