PoetryMagazine.com
Jim Daniels
USA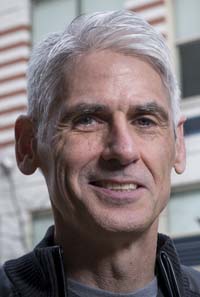 Jim Daniels' fourteenth book of poems, Birth Marks, was published by BOA Editions in 2013 and was selected as a Michigan Notable Book, winner of the Milton Kessler Poetry Book Award, and received the Gold Medal in Poetry in the Independent Publishers Book Awards. His fifth book of short fiction, Eight Mile High, was published by Michigan State University Press in 2014. A native of Detroit, Daniels is the Thomas Stockham University Professor of English at Carnegie Mellon University.
MIDNIGHT FOOTBALL
Under one streetlight on concrete
gone quiet on night's a.m. dial
the ball echoes when it drops,
and wobbles, oh, we sweat clean,
clomping in drunken factory boots
steel-toed and glorious thump-
ing as we trudge past parked cars—
buttonhook, criss-cross, flare,
down-and-in, down-and-out,
four of us—passer/receiver
rusher/defender oh Mississippis
one through five, two-hand shove
we don't touch each other
out of breath, hands on knees,
for we are in the factory's kind of shape—
but, but—hut, hut, hike—in the air tonight
the burn-off of summer into fall
oh yeah baby—one of us used to be
a high school star, and watching him tonight
run by me still I feel the sad tinny weight
of the announcer calling his name
and nobody thinks I'm mocking him
when I cup my hands: Touchdown
by Herzog! we gather in the street's
pock-marked end zone in the almost-
dark at the edge of the light's soft
circle of breath and do a touchdown dance
that frankly was not allowed in school
and it goes on a little long because nobody's
keeping score or keeping time through this brief
broken window of our lives and no,
the neighbors aren't shouting shut up,
cool enough tonight for closed windows
maybe or maybe it's just a home game
and I know it might be easy or expected
to tell Herzog to go long when we switch
teammates, but that's what I do—
I love to see the man run
and if I say it's as simple as that
I'm only lying a little bit. Go long!
I shout for everyone to hear, echo
rising up like steam to disappear
into the dark, but I do know better
than to say and keep on going, brother—
our plays more complicated
than that.
© Copyright, 2014, Jim Daniels.
All Rights Reserved.