PoetryMagazine.com
Laurence Hutchman
CANADA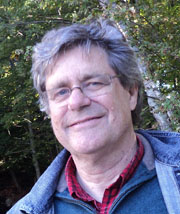 Laurence Hutchman has co-edited Coastlines: The Poetry of Atlantic Canada, edited In the Writers' Words and published nine books of poetry, his most recent Personal Encounters. He has received numerous awards, including the Alden Nowlan Award for Excellence and given many readings and workshops in Canada, the United States, Ireland, Bulgaria and China.
Timeless Night


I remembered when I walked

out into the timeless night

and felt the air of mauve twilight

changing, my flashlight

became a beacon to scan

the civilization of the stars.


There I would direct my path

beyond the green genius of the garden

up to the trees whose large leaves turned fluorescent

and farther, outward, beyond the clouds.

The child in me still shines

beyond the cavern of this moment.
© Copyright, 2015, Laurence Hutchman.
All Rights Reserved.