PoetryMagazine.com

William Wright Harris

USA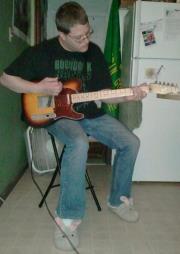 I wake up for poetry. My poetry has appeared in twelve countries in such publications as The Cannonís Mouth, Poetry Salzburg Review, Ascent Aspirations, generations and Write On!!! A graduate from the University of Tennessee- Knoxville,
In my work I juxtapose concrete images with abstract notions, often write in structures such as non-rhyming couplets and triadic verse, stress economy, and utilize such literary conceits as the ekphrastik poem, parallel structure, and the incorporation of mythology within my work.
on her deathbed
madame monet
rests in lines of linens
& hues of blues
breathing the scent of
her life from
her children &
her marriage bed
in the sunrise
of that final day &
her husband
frantically painting
her even then

camille sur son lit de mort
© Copyright, 2012, William Wright Harris.
All rights reserved.