PoetryMagazine.com

Grace Cavalieri
USA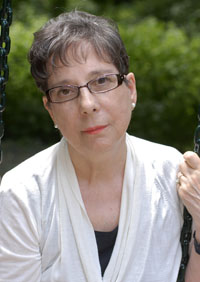 photo credit: DAN MURANO
Grace Cavalieri is the author of 16 books and chapbooks of poems, and 26 produced full- length and short- form plays. Her newest publication is Millie's Sunshine Tiki Villas, (2010, Casa Menendez.) Grace has founded and still produces "The Poet and the Poem" on public radio celebrating 34 years on-air, It is recorded at the Library of Congress She holds the Allen Ginsberg Poetry Award, the Bordighera Poetry Prize, The Paterson Award for Excellence in Poetry, the CPB Silver Medal, Pen Center's Best Books List, plus others. Her play "ANNA NICOLE: BLONDE GLORY" opened in NYC, 2011.
In The Beginning There Will Be An End
Life will never be the same again.
It will have been an average house,
a simple day,
then the future – with your head
under my arm. Or the past.
What's in the room at the
top of the stairs?
The elation, pleasure,
one thing at a time,
more than what was to come,
the unbearable prospects
however temporized.
Obvious grieving of course.
We have to stay here, pretending
it won't happen,
nevertheless,
it will happen.
© Copyright , Grace Cavalieri.
All rights reserved.